The Iranian regime again attempted to destroy the mass grave site of victims of the 1988 massacres to eliminate the evidence of its crimes against humanity.
Iranian authorities in the past month banned members of the Baha'i minority from burying their loved ones in a cemetery that they have used for decades and pressured Baha'is to bury them at the Khavaran mass grave site for victims of the 1988 massacre.
Khavaran and other mass grave sites for the victims of the massacre in various cities including Ahvaz, Tabriz and Mashhad have been bulldozed or destructed multiple times in recent decades.
In a statement released on April 29 Amnesty International's Deputy Director for the Middle East and North Africa, Diana Eltahawy said: "This is the latest in a series of criminal attempts over the years by Iran's authorities to destroy mass grave sites of victims of the 1988 prison massacres in a bid to eliminate crucial evidence of crimes against humanity, denying truth, justice and reparation to the families of those forcibly disappeared and extrajudicially executed in secret."
"As well as causing further pain and anguish to the already persecuted Baha'i minority by depriving them of their rights to give their loves ones a dignified burial in line with their religious beliefs, Iran's authorities are wilfully destroying a crime scene," Eltahawy added.
Iran Human Rights Monitor calls on the United Nations Secretary-General, the UN Security Council, the UN High Commissioner for Human Rights, and the UN Human Rights Council to take immediate measures to prevent the continued destruction of the graves of the martyrs of the 1988 massacre, as well as to prevent pressure and coercion against the Baha'is.
Executions:
At least 25 people were executed in the last month in Iran. Of these, 14 were executed for drug-related offenses and 9 for murder. The identities and charges of the other two executed prisoners are unknown.
A Criminal Court in central Iran sentenced two prisoners identified as Yusef Mehrdad and Seyyed Sadrollah Fazeli Zare to death by for "insulting the prophet". The two prisoners detained in Arak Central Prison were informed about their death sentences on April 22.
Executions carried out in April 2021 in Iran
| | | | | | | | | |
| --- | --- | --- | --- | --- | --- | --- | --- | --- |
| R | Name | Surname | Age | Gender | Charges | Place of execution | Date of execution | Other details |
| 1 | Mohammad Karim | Mahmoudi | | M | drug charges | Urmia Prison | 4/4/2021 | |
| 2 | Ahad | Habibvand | | M | drug charges | Urmia Prison | 4/4/2021 | |
| 3 | Sadegh | Mohi | | M | drug charges | Urmia Prison | 4/4/2021 | |
| 4 | Hojjat | Ghaed | 36 | M | murder | Zanjan Central Prison | 4/4/2021 | |
| 5 | Yaser | Dareyayi Naruyi | | M | drug charges | Sabzevar Prison | 4/7/2021 | |
| 6 | Safar | Rahimi | 39 | M | drug charges | Taybad Prison | 4/8/2021 | |
| 7 | A | A | | M | murder | Babol Prison | 4/8/2021 | |
| 8 | K | H | | M | murder | Babol Prison | 4/8/2021 | |
| 9 | Mahmoud | Bayazid | | M | drug charges | Urmia Prison | 4/9/2021 | |
| 10 | Ali | Mohammadzadeh | | M | drug charges | Urmia Prison | 4/9/2021 | |
| 11 | Arshad | Heydari | | M | drug charges | Urmia Prison | 4/9/2021 | |
| 12 | Hamid | Najmi | | M | drug charges | Urmia Prison | 4/9/2021 | |
| 13 | Morteza | Kabiri | | M | drug charges | Isfahan Central Prison | 4/10/2021 | |
| 14 | Bayazid | Rashidi Hashtiani | 40 | M | drug charges | Urmia Prison | 4/10/2021 | also known as Yousef Hashto |
| 15 | Mohsen | Mahdavian | | M | murder | Karaj Central Prison | 4/12/2021 | |
| 16 | Arsalan | Moradi | | M | drug charges | Birjand Central Prison | 4/12/2021 | He was deprived of the last family visit before execution |
| 17 | Arsalan | Zare | 45 | M | murder | Adelabad Prison | 4/12/2021 | |
| 18 | Ghorban | Karimi | 39 | M | drug charges | Isfahan Central Prison | 4/12/2021 | |
| 19 | unnamed | | | M | | Isfahan Central Prison | 4/12/2021 | |
| 20 | unnamed | | | M | | Isfahan Central Prison | 4/12/2021 | |
| 21 | Ramezanali | Shahroudi | 36 | M | murder | Karaj Central Prison | 4/12/2021 | |
| 22 | Mehrdad | Jalali | 40 | M | murder | Karaj Central Prison | 4/12/2021 | |
| 23 | Hossein | Ramezani | 37 | M | murder | Qazvin Prison | 4/12/2021 | |
| 24 | Sohrab | Mesgari | | M | murder | Gonbad Kavous Prison | 4/13/2021 | |
| 25 | Habibullah | Sheikh Hosseini | | M | drug charges | Sabzevar Prison | 4/26/2021 | |
Torture:
At least 15 flogging sentences handed out by Iran's Judiciary in April. Among those sentenced to flogging are student activists and ethnic minorities. Two female prisoners were flogged in April.
Jailed online activist Zohreh Sarv, 35, was lashed 74 times, despite the lashing sentence having been altered to a fine which she had paid for. She was told she could go on leave only on the condition that her flogging sentence was carried out.
Two student activists were sentenced to a total of 72 lashes by the Shahroud Criminal Court in northern Iran. The two men were identified as 25-year-old Milad Nazeri and 26-year-old Seyed Shabir Hosseini Nik. Both are students at Shahroud University of Technology Central Campus.
Their lawyer said that the two student activists were sentenced to 36 lashes each for "participation in spreading lies with the intention of disturbing public opinion through the (Telegram) channel of the University's Student Association".
On April 22, the state run IRNA news agency reported that the state security forces had paraded 34 young men in the streets to punish them for attending the Iranian fire festival which was heled on March 16. Humiliating people by parading them around cities and towns is a known practice of Security Force in Iran. This contradicts all human rights conventions and violates human dignity.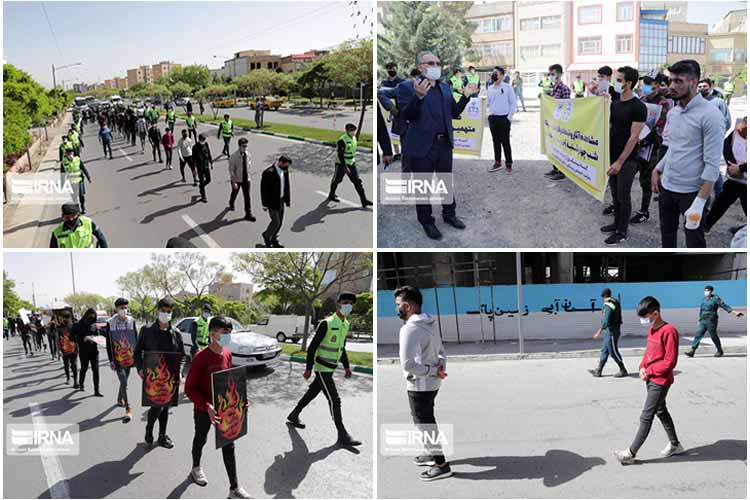 Arrest:
At least 700 people were arrested in Iran in April. The detainees include members of religious and ethnic minorities, peaceful protesters, dissidents, and political and civil activists. At least 393 citizens were arrested during street crackdowns and 47 were detained for attending private parties.
Prisoners:
A year after agents of Iran's Intelligence Ministry arrested and tortured them, university students Ali Younesi and Amirhossein Moradi remain in Ward 209 of Evin Prison in Tehran, controlled by the ministry, while being denied access to lawyers and their relatives. The Sharif University of Technology honor students were due to go on trial on trumped-up national security charges on April 11, 2021, but the session was canceled for unknown reasons, according to their lawyer Mostafa Nili. Reza Younesi, Ali's brother, pointed out that Ali Younesi has been tortured and held in prolonged solitary confinement, according to comments made by former cellmate Mojtaba Hosseini. Hosseini, who had been arrested by Intelligence Ministry agents for posting humorous tweets criticizing the government, said he saw one of Ali's eyes was badly swollen, for which the prison physician had prescribed antibiotics.
Political prisoner Maryam Akbari Monfared has been under additional pressure since she was exiled from Evin Prison to the Prison of Semnan on March 9, 2021. Prison authorities monitor all contacts she makes with her family and children. Akbari Monfared is presently detained in the general ward of the Semnan Prison where she does not have access to her personal belongings. Her detention in the general ward is in violation of the principle of separation of crimes.
Prisons:
The start of a fourth wave of the COVID-19 pandemic in Iran has increased concerns about the spread of the virus in the country's overcrowded and unhygienic prisons.
Lack of medical attention and proper facilities for prisoners suffering from COVID, poor sanitary conditions and overpopulation in tight spaces in many prisons are causes for serious concerns among inmates and their families as well.
The coronavirus has spread in Karaj Central Prison and a large number of prisoners have been infected, according to informed sources. Covid-19 cases have been reported in the hall 1 of the prison, which is a quarantine and a place for newly arrived prisoners. At least 35 prisoners with acute Covid-19 have been taken to hospital in the first week of April.
The widespread outbreak of the coronavirus and the unsanitary condition in Zahedan Central Prison have caused concern among the families of the prisoners. The authorities' medical negligence, the confinement of those suspected of having the virus together with other prisoners and the lack of proper health facilities in the prison clinic have caused concern among prisoners and their families.
In the past month, Covid-19 has become widespread in Minab Central Prison in Bandar Abbas Province. A prisoner identified as Kamran Rastakhiz died of the virus on April 27.
On April 12, 2021, a group of inmates in Evin Prison's Ward 8 issued a statement demanding urgent action by the authorities to stop the spread of the virus, which has recently infected several prisoners, including Baktash Abtin, a board member of the Iranian Writers Association.
"Before more tragedy hits the prisons, the judicial authorities must take steps to overcome dangerous conditions in Iran's prisons," the statement said.
Discrimination against religious minorities
Baha'is
Last month, the Iranian regime increased pressure on religious minorities. In this regard, more than 36 Baha'i citizens were arrested or summoned to serve prison sentences.
Sina Shakib, a student at the University of Isfahan, has was expelled from the university and barred from continuing his education because of his belief in the Baha'i faith.
Meanwhile, during the new wave of pressure on Baha'i citizens, security forces raided and searched the homes of many members of this religious minority.
Followers of the Baha'i faith in Tehran have been told they must bury their dead upon the mass graves of political prisoners in Khavaran cemetery. The Baha'i community in the Iranian capital has for years buried its dead in a special section of Tehran's Khavaran cemetery, near the resting place for hundreds or even thousands of political prisoners who were victims of mass executions in the late 1980s.
Cemetery officials have in recent days reportedly told Baha'is that they are no longer allowed to bury their dead in that section of the cemetery.
Christians
On April 19, three Iranian Christian converts were detained by intelligence agents in Dezful southwestern Iran. The three Christians were identified as Esmael Narimanpour, Mohammad Ali Torabi, and Alireza Varak Shah. Their homes were searched and some of their personal belongings including Mohammad Ali's cellphone were confiscated.
An Iranian Christian convert identified as Hamed Ashouri was sentenced to 10 months of prison by the Revolutionary Court in Karaj, near Tehran. He was previously detained and interrogated in Kara's Ghezel Hesar prison in 2018. While Ashouri was in prison, his house was searched. He was temporarily released after 10 days.
Arbitrary murders
At least five civilians were killed and 11 were injured by police or Iranian regime intelligence in April. The Iranian regime's security forces and police have a history of shooting and killing civilians. There are almost daily reports of police and border guards opening fire on Kurd border porters in western Iran and civilians carrying fuel in southeastern Iran.
Arbitrary murders – April 2021
| | | | | | | | | |
| --- | --- | --- | --- | --- | --- | --- | --- | --- |
| R | name | surname | age | date | place | cause of dehat | occupatin | repressive force |
| 1 | Mohsen | Moradzehi | | 4/12/2021 | Khash, Sistan and Baluchestan | direct fire | fuel carrier | state security forces |
| 2 | Ahmad | Rasan | 40 | 4/14/2021 | Maku, West Azerbaijan | direct fire | | intelligence agents |
| | Aslam | Haji Zehi | | 4/20/2021 | Sistan and Baluchestan | direct fire | fuel carrier | state security forces |
| 3 | Khaled | Rasouli | 35 | 4/16/2021 | Sardasht, West Azerbaijan | direct fire | | state security forces |
| 4 | Hiva | Ghaderi | | 4/17/2021 | Baneh, Kurdistan | direct fire | porter | state security forces |
| | | | | | | | | |