Based on information compiled by the Iran Human Rights Monitor, at least 21 porters (or back carriers) have been shot dead by revolutionary guards since March 20, 2020.
This is an average of four porters per month and one porter every week getting killed by the IRGC.
This figure does not include the cases where porters lost their lives after falling off the mountain, or getting trapped in the freezing cold.
Unbridled poverty and rampant unemployment, particularly in the border regions have led to the creation of false jobs such as this, carrying heavy loads across the border to earn a meager living.
Porters known locally as kolbars, engage in this false job at the risk of their lives. The first five months of the Iranian year saw the deaths of at least 21 porters at the hands of the IRGC forces.
Many educated people including highly educated youths are among porters because they are poor and cannot find suitable jobs. The harsh occupation is particularly prominent in Kurdish-populated regions, such as Kurdistan Province and West Azerbaijan Province. They are usually residents of local villages, men and women, even children as young as 13 and others in their 70s.
The regime categorizes Iranian kolbars as "smugglers" and routinely shoots and kills them.
At least 79 Iranian kolbars were killed, and 66 others were injured as the result of direct fire by border forces in 2019.
Social media users have been tweeting with the hashtag #Do_not_kill_porters to expose but a small part of the pain and suffering of the people of Iran.
Ebrahim Jordizej was one of the 21 Iranian kolbars killed in June 2020 by the IRGC. He used to own a shop in his village, but since he hardly had any income, he resorted to this intolerable false job. He was shot to death by the IRGC.
In another case on July 17, 2020, a porter lost his life at a hospital in Van, Turkey. Shamzin Ahmadi had been seriously wounded eight days before after the IRGC shot him.
His brother, Arsalan Ahmadi had been killed by the IRGC on June 3, 2020 as he was carrying loads in the border area of Urmia.
Images of the men's parents holding their sons' pictures were circulated by Iranians on social media.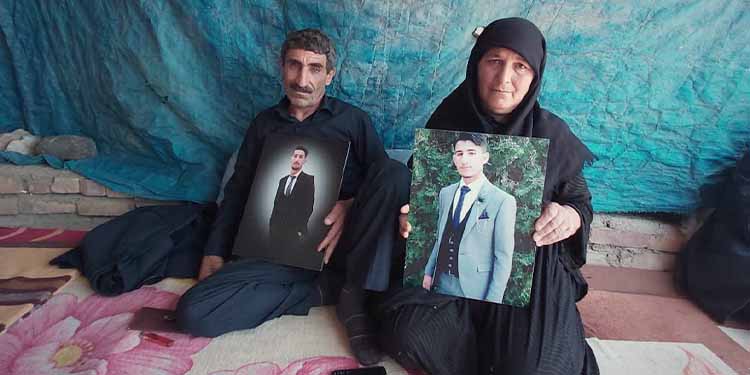 On Friday, July 31, IRGC border patrols opened fire on a group of kolbars moving along the border mountains. Reza Pour Esmail was killed when he was shot three times in the abdomen at point blank range and without any prior warning.
Earlier, on May 12, 2020, the IRGC forces stationed in Sardasht opened fire on a group of kolbars and killed a porter, Kamran Molania. He was married with a 5-year-old daughter.
Social media users posted a photo from Mr. Molania's daughter and wrote, "This five-year-old girl will never see her father again."
In another painful episode, Vazir Mohammadi, 29, was killed by the IRGC. His photo holding the hand of his little child has enraged the conscience of all the people of Iran.