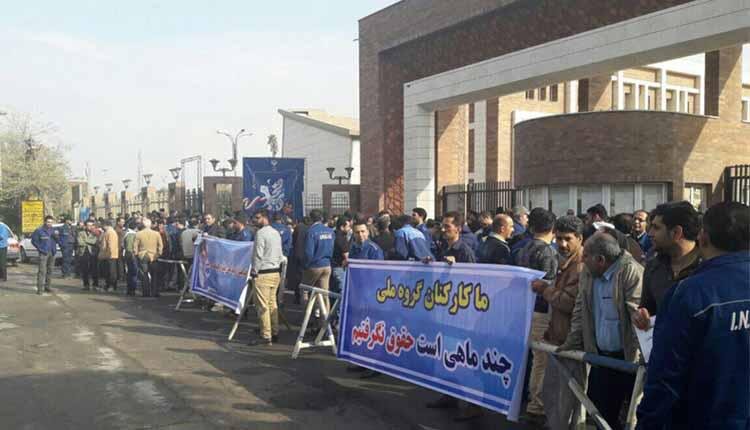 60 workers of Iran National Steel Industrial Group arrested
The state security forces broke up the gatherings staged by employees of the Ahwaz National Steel Group on Monday and Tuesday, arresting at list 60 demonstrators.
The names of a number of detained workers are as follows:
1. Hassan Javid Hamoudi,
2. Peyman Shajirat,
3. Mohammad Naghizadeh,
4. Ali Jama'ati,
5. Rahman Sam'ak,
6. Karim Siahi,
7. Ali Aghabeh,
8. Ali Taheri,
9. Mostafa Zargani,
10. Behzad Alikhani,
11. Seyyed Mohammad Mousavi,
12. Amir Sha'abani,
13. Seyyed Razzagh Mousavi,
14. Hadi Vaeli,
15. Farzad Gharaji,
16. Younes Amiri,
17. Seyyed Ali Moradi,
18. Nour Ali Khan Mohammad,
19. Amir Harirzavi,
20. Ahmad Afrawi,
21. Hossein Efri,
22. Ebrahim Farsi,
23. Mohammad Allawi,
24. Seyyed Javad Mousavi,
25. Alireza Mohreb,
26. Javad Eskandari,
27. Ali Daghalegheh,
28. Ebrahim Borumand Nia,
29. Ali Hezbi Pour,
30. Faisal Sari,
31. Shahin Baba Ahmadi,
32. Kazem Heydari
Employees of the Ahwaz National Steel Group staged a demonstration on Kianpars Avenue marching towards the governor's office, once again demanding their overdue wages, the requests they have been seeking for the past few months and also the issue of this industrial unit's ownership.
On Sunday these workers had protested the authorities' refusal to pay their paychecks and delayed demands. In response, they raised roadblocks on the Ahwaz-Tehran rail tracks.
The Iran National Steel Industrial Group is located in Ahwaz, southwest Iran and in the past it was one of the country's main steel production site, which was privatized in 2009. But the problems of the company began when the large financial corruption discovered and peaked since its transfer to the National Bank in March 2016.