In stark contrast to developed countries where athletes are honored, their situation in Iran is way below the minimum international standards.
The Iranian regime ruling Iran mistreats, arrests, and executes Iranian athletes.
In the regime's dark record of human rights violations, there are numerous cases of executing athletes and national champions.
No regime in human history has committed such a horrific crime against its national heroes and athletes.
By sentencing to death another local boxing champion over his role in 2019 protests, the Iranian regime has once again shown that it intends to suffocate any dissent by using violence and repression, even among athletes and those who hold championship titles.
Vafaei-Sani, 26, was sentenced to death after being convicted of arson and destruction of government buildings.
He had been detained in February 2020 and one of the charges against him was taking part in protests in November 2019 sparked by a sudden fuel price rise.
The death sentence issued against Mohammad Javad Vafaei-Sani comes just over a year after the execution of wrestling champion Navid Afkari in September 2020, which prompted an international outcry and calls for Iran to be barred from sporting events.
Navid Afkari's case which was carried out when Ebrahim Raisi was the regime's Judiciary Chief, had created a global outcry, including from then US president, Donald Trump, and from the World Players Association (WPA), a major athletes' union representing 85,000 people, which had called for Iran's expulsion from world sport if the execution went ahead.
"The horrific act of executing an athlete can only be regarded as a repudiation of the humanitarian values that underpin sport," the WPA director, Brendan Schwab, had said in a statement.
Athletes executed in Iran
Many athletes were imprisoned, tortured, or even executed during the clerical regime's rule.
Habib Khabiri
Habib Khabiri was a member of Iran's men's national football team. He was arrested in 1983 on charges of membership in the People's Mojahedin Organization of Iran (PMOI/MEK) and executed by firing squad the following year.
Khabiri is one of 282 people named in a 1985 United Nations report on the state of human rights in Iran. The report lists the 282 as "persons who were allegedly summarily and arbitrarily executed in the Islamic Republic of Iran: 1984-1985."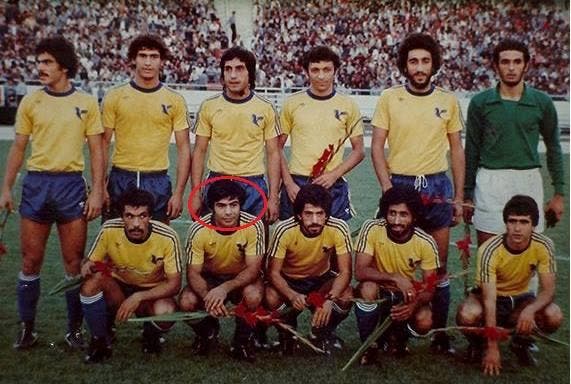 Hooshang Montazeralzohoor
Hooshang Montazeralzohoor was a champion wrestler who was arrested in the summer of 1981 and executed by firing squad along with 29 others later the same year. At the time, the Iranian judiciary said the 30 were members of the PMOI.
Montazeralzohoor had represented Iran in the 1976 Summer Olympics in Montreal as well as in the 1977 Summer Universiade in Bulgaria.
Foruzan Abdi
Foruzan Abdi was the captain of Iran's women's national volleyball team. She was arrested in 1981 while in her early 20s on charges of supporting the PMOI and was sentenced to five years in prison.
Abdi was not released after completing her five-year sentence and was hanged in Tehran's notorious Evin prison in the summer of 1988.
Iran executed thousands of political prisoners – mostly members and supporters of the PMOI in 1980s and the 1988 massacre.
Mahshid Razaghi
Mahshid Razaghi was a member of Iran's national Olympic football team. He was arrested in 1980 for selling anti-government newspapers and was sentenced to one year in prison.
Razaghi was not released after completing his sentence and was imprisoned until his execution during the 1988 massacre. His brother Ahmad was also executed days later.
Final word
The horrific act of executing or sentencing athletes to death is a staggering example of the violation of human rights and all human values.
Iran HRM urges the Secretary-General of the United Nations, the UN Human Rights Council and the UN High Commissioner for Human Rights, and all human rights bodies, as well as the European Union and its member states, to take urgent action to save the life of political prisoner Mohammad Javad Vafaei Sani.